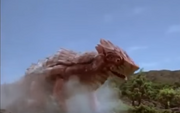 Taildas
is a kaiju from Godzilla: New Age of Monsters. He first appeared in the season 3 episode,
Monster Island
.
Personality
Taildas can be easily fightened
Origin
Taildas is a monster that lives underground. Dr. Watari Fuji has confirm that Taildas is a dinosaur.
History
Taildas has been sighted near the Japanese countryside and was eventually captured by the Gammas as they sent the four legged creature to Monster Island.