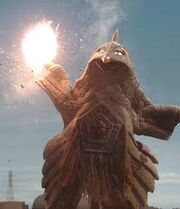 Bemstar is an energy absorbing alien Kaiju that appears in Godzilla: New Age of Monsters season 2.
Origin
Bemstar is a space monster from the Crab Head Nebula. 
History
Bemstar arrived on Earth by attacking the Tokai nuclear power plant to feed off the nuclear energy as his destruction caught the attention of the Gammas.